Custom B200™ Conduction Type Thermostats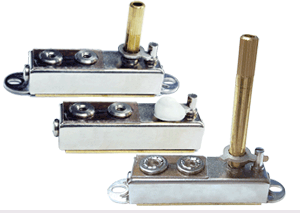 B200 Custom Thermostats
Maintains a set temperature and allows for adjustment from room temperature up to the set temperature (Max 545°F).
Rating:
115 or 230V.A.C. (1500w)
Temp Range: RoomTemp - 545°F
Rotational Sensitivity: 1°θ / 2°F
Request a Quote
Buy It Now 27.50
Please request a quote for bulk pricing.
Custom Conduction Type Thermostats
Our custom thermostats will suit your needs if our standard units do not. If you require something to be altered, extended, or modified we can do it. If you require something other than a custom temperature please contact us directly by clicking "Request a Quote" on the right.
Custom features
Select any control range from Room Temp up to 545°F

Specifiy a custom adjustment shaft outside of our normal range
Angular rotation limits available from 45° to 310° degrees of angular rotation

Temperature tolerance +/- 5% of set temperature

Mounting methods
Plating options
Specialized materials


Please Note
These thermostats sense via conduction through their base plate

Adjustment knob is set with the "off" position at room temp.
Rotational limits can be added per your requierments; Please request a quote.

Compatible in both AC and DC systems up to 1500 Watts Maximum (Watts = Volts x Amp)
Tabless units are available, see mounting options in the online store or request a quote.
Male terminal spades are optional see "Terminal Options in the online store or request a quote.