Fixed Setting B200™ Conduction Type Thermostats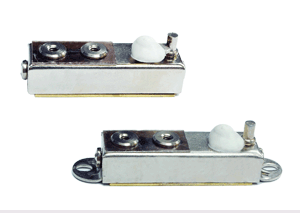 Adjustable Conduction Type Thermostats
Our fixed setting conduction type thermostats sense themral properties through a thermally conductive base plate. These thermostats do not allow for thermal adjustment, and are pre-set and calibrated at the factory to a fixed setting.
These units have a control range up to 545°F w/ a tolerance of +/- 5% of the set temperature.
FEATURES
Temperature control range from room temperature up to 545°F

Factory calibrated, and sealed

Temperature tolerance +/- 5% of set temperature

Can be "base mounted", or "side mounted"
Custom features beyond what is listed is possible through contacting us directly.
Size 2.132" x .667" x .507"
Terminals: #6-32 Tapped Rivets
Please Note
These thermostats sense via conduction through their base plate

On and Off temperatures are specified by the customer and set at the factory
Self sealing option is available for those who need to fine-tune prior to sealing.

Compatible in both AC and DC systems up to 1500 Watts Maximum (Watts = Volts x Amp)
Tabless units are available, see mounting options in the online store or request a quote.